Monster Hunter Portable 3rd HD
06-23-2014, 12:52 PM

Post: #156
x004438
Junior Member


Posts: 19
Joined: Apr 2014
Reputation: 0
RE: Monster Hunter Portable 3rd HD
I am running
MHP3rd HD
in
PPSSPP 0.9.8-1296
(git build)
I have
CheatEngine 6.3
installed.
I would like to know how to, if possible:
1) Scan the part of the memory adresses and their values where the custom sets gets stored (sets 1 to 45)
2) Save those portions of memory adresses externally (maybe in a *.CEMe file?)
3) Inject back those portions of memory adresses to PPSSPP
The aim is to be able to store "infinite" custom sets by saving them in "blocks" of 45 custom sets, and being able to inject them whenever needed.
So, I open PPSSPP 0.9.8.1296, launch CheatEngine 6.3, click on process explorer, and select "
0000D44-PPSSPPWindows64.exe
", but now, how could I "scan" for changes in the memory adresses (for example creating a new custom set) and save the difference into an external file (like a "patch").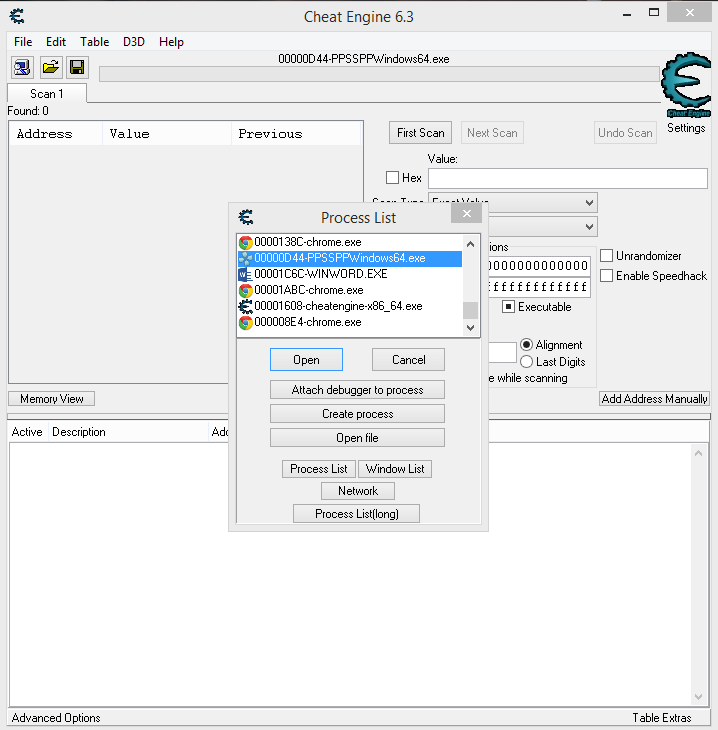 UPDATE
I have been reading about CheatEngine and it looks like that it is possible what I am trying to do.
I have to use the "
Save/Load Memory Region
" feature in the
Memory Reader
module, in order to isolate/patch the desired *.CEM file into PPSSPP process.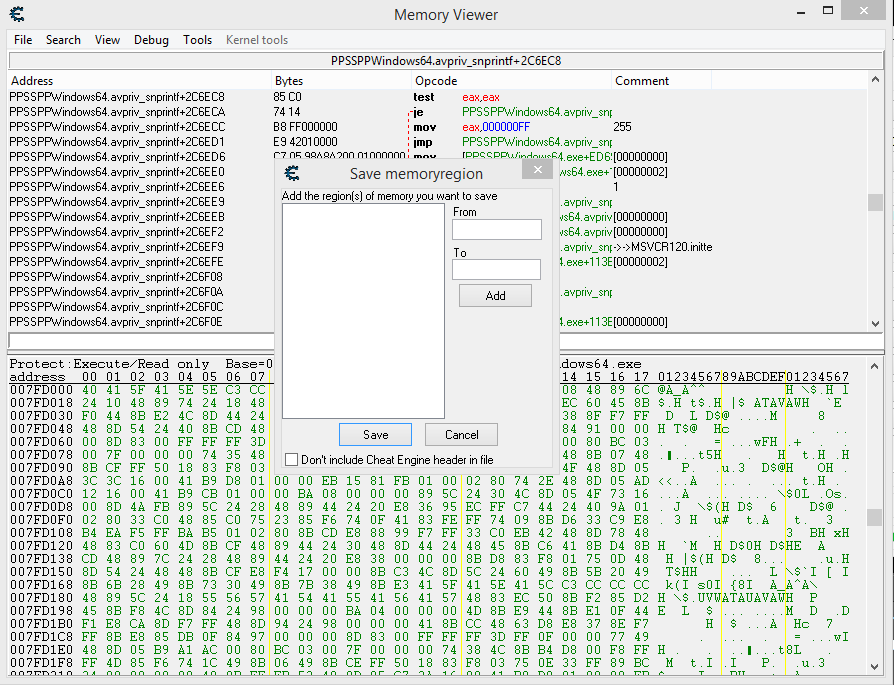 I just need to identify from which to which region of the memory the custom sets are saved into
.
Is there some way to save all the memory regions, save a custom set (set 1), save again all the memory regions, and compare (get the difference/s)? That way I could know which memory regions have been modified, and if I repeat it with all 45 custom sets I may obtain what I am looking for (I hope they are stored one after the other to make it easier to save/patch).
Thanks in advance again