06-08-2014, 12:43 PM

Post: #63
sergio_zar
Junior Member


Posts: 12
Joined: Feb 2014
Reputation: 0

RE: Grand Knights History
(06-08-2014 08:56 AM)

[Unknown] Wrote: v0.9.8-1087-gfe58f8d works for me. If that doesn't work for you, can you try more versions in between to see what the first build was that stopped working, and what the last one was that did work?

This is on Windows, right?

-[Unknown]
Yes, Windows 8 32bits, pentium dual core 2.6ghz, Geforce 9600gt.
Last version published right now (v0.9.8-1088) gives me the same problem. Default settings (untouched) with simulate block transfer enabled. The result is this:
I've been testing previous versions of the emulator. Last version that worked well for me is ppsspp-v0.9.8-1069-gc9261b7-windows-x86. The result was this: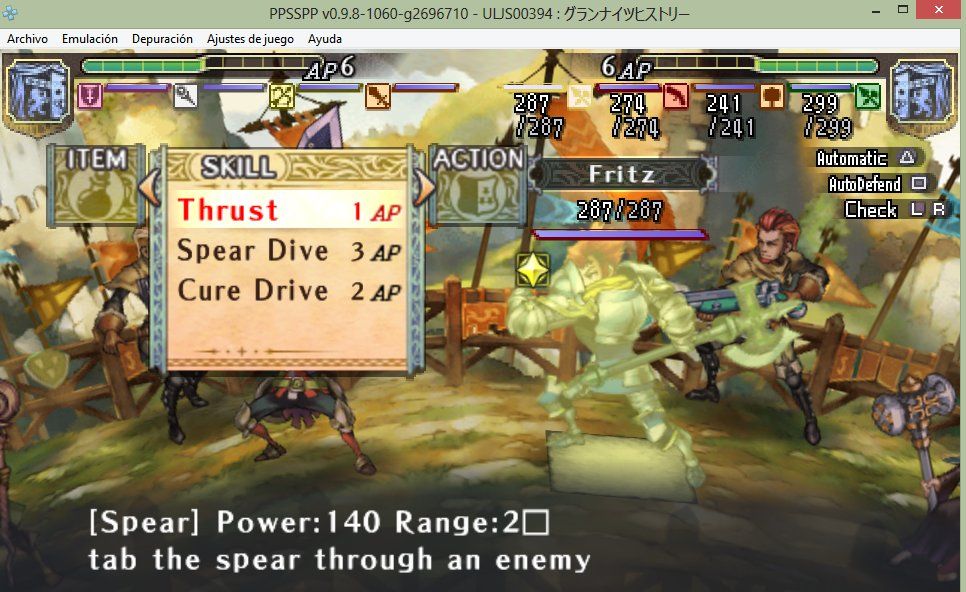 Next Windows 32bit version is v0.9.8-1072-gc3dfb64. Here, it's already wrong. Have into account that the problem might have been introduced in v0.9.8-1071-gf6f8d1d (No 32bit version).
However, I don't understand why you and Rafael_ed haven't got any problems with new versions, so it might be graphic drivers related. But, I insist, it worked well until ppsspp-v0.9.8-1069-gc9261b7-windows-x86 in my computer. Any version more modern than that, it gives me black background and invisible characters in buffered mode (In the three other modes I can see everything but with graphic problems). In ppsspp-v0.9.8-1069-gc9261b7-windows-x86, buffered mode + simulate block transfer perfect, so I don't know what has changed now.