Monster Hunter Portable 3rd
06-02-2013, 03:43 AM
(This post was last modified: 06-13-2013 06:31 PM by solarmystic.)

Post: #24
solarmystic
PPSSPP Tester


Posts: 1,227
Joined: Apr 2013
Reputation: 75
RE: Monster Hunter Portable 3rd
(05-24-2013 03:31 PM)

daxtsu Wrote: Shouldn't this thread be moved into Intro/menu, and renamed to drop the (android) tag? Anyway:

This game probably black screens after creating a character/loading a character because of this:



Code:


19:38:222 user_main E[HLE]: HLE\scePauth.cpp:30 UNIMPL scePauth_98B83B5D(154319744, 400, 167769488, 145411716)


I scoured the 'net for a while and found a possible implementation we can use for it, but I don't know if it'll work as the game expects it:
https://code.google.com/p/procfw/source/...te/pauth.c (See myPauth_98B83B5D)

I hope this helps.
Same issue still present the latest builds as described above. Still need to decrypt the EBOOT.BIN to get the game loaded up in the first place, which I used Iso tool to do, within PPSSPP itself.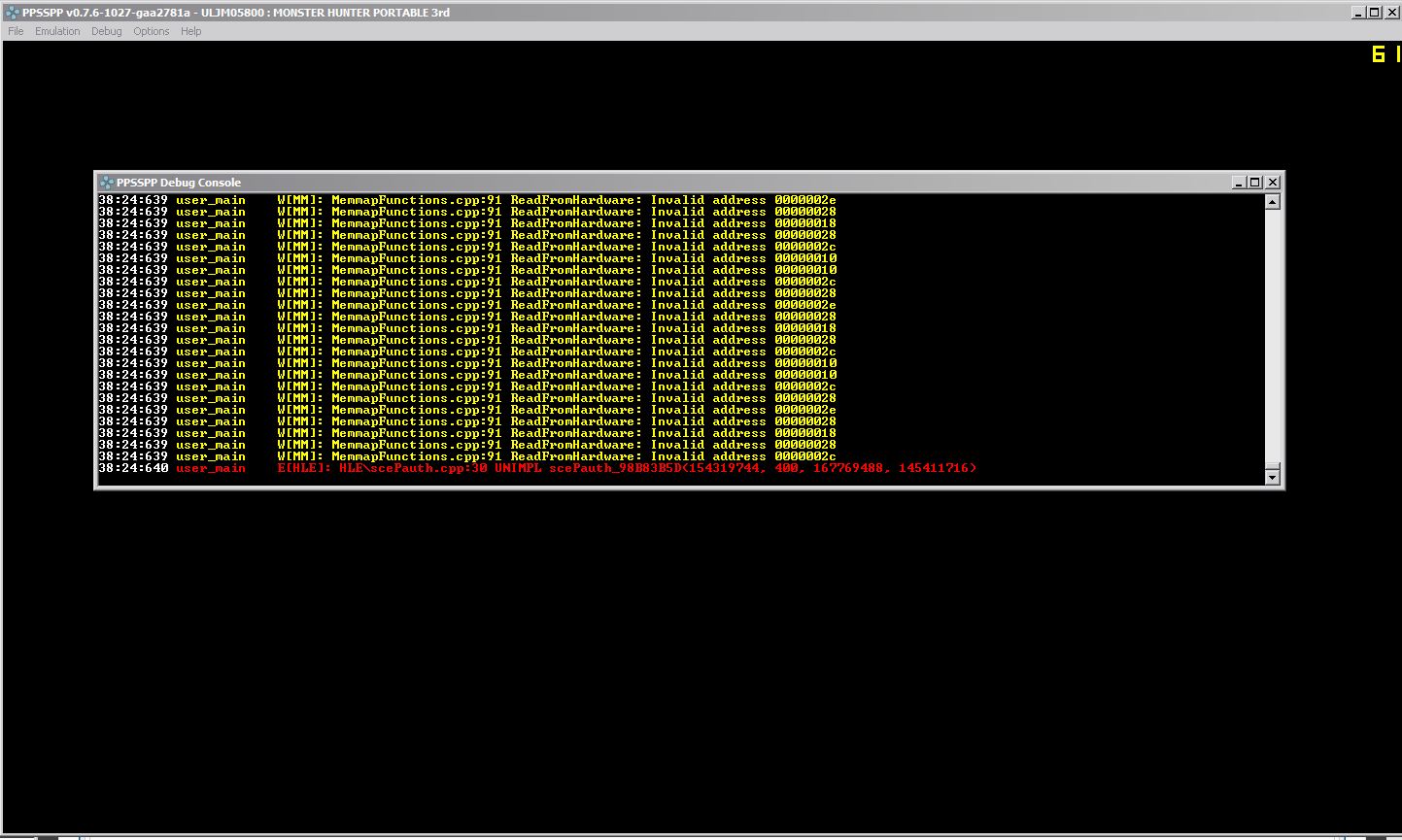 ---
PPSSPP Modern Testbed:-
Intel Core i5 4690K @ 4.0 GHz
NVIDIA Geforce GTX 760 2GB GDDR5 VRAM @ 1138/6500 Mhz
16 GB DDR3 RAM @ 1600 MHz
Windows 7 x64 SP1

PPSSPP Ancient Testing Rig:-
Intel Core 2 Duo T9550 @ 2.8GHz
ATI Mobility Radeon 4670 1GB GDDR3 VRAM @ 843/882 MHz
8 GB DDR3 RAM @ 1066 MHz
Windows 7 x64 SP1