Online Support (PRO Online)
11-25-2013, 02:51 AM
(This post was last modified: 11-27-2013 06:05 PM by Kyhel.)

Post: #256
Kyhel
Member


Posts: 98
Joined: Nov 2013
Reputation: 14
RE: Online Support (PRO Online)
I've finally managed to pack this all, and make a build that could work for everybody
-------------------------------------------------------------------------------------------------------------------------------------------------
Here is the Dropbox link to a folder where i've put builds for emulator and server for both Mac OSX and Windows
-------------------------------------------------------------------------------------------------------------------------------------------------
Instructions for building it by yourself :
1)
Download the adhoc-support branch of my repo here :
https://github.com/Kyhel/ppsspp/tree/adhoc-support
Use github, git bash, or just the zip, whatever suits you.
If you don't know how to do it, you can look step 2) and the [Procedure for compiling] starting step 1.
2)a)
On Windows
:
Follow this post :
http://forums.ppsspp.org/showthread.php?tid=5231
-Do all steps of the [Prerequisites] part
- Do step 8 to 14 (Some changes may not be needed since you'll have the updated .sln, but anyway) for those who have managed to download the code.
2)b)
On Mac or Linux
:
Go into the folder you've downloaded on step 1) and use CMake and make. Check google if you don't know how it works.
Once you've built it, you may have to take the lang folder and put it in the assets one (look at the console where he's trying to find it but doesn't manage to)
3)
Now you should have built the thing, time to get the server.
Check my post here :
http://forums.ppsspp.org/showthread.php?...1#pid59021
- Download attachement 2 if you're on
Mac OSX
, just double click the pspnet_adhocctl_server
- Download attachement 4 if you're on
Windows
, just double click the AdhocServer.exe
- Download attachement 3 if you're on
Linux
, and build it yourself (i assume Linux users will know how to use make, and download sqlite3)
4)
The setup :
- First, launch the emulator at least once, to create the folder (it'll be created in the same folder you have the emulator)
- Open the memstick/PSP/SYSTEM/ppsspp.ini file
- Find the proAdhocServer line and put the IP address of the computer where you have the server running.
- Find the MacAddress line, and put whatever you want,
BUT
:
If you're playing with 2 emulators, be sure to put a different for each one.
If you plan to connect to coldbird.uk.to, you'd better put the real one of your network interface (google that), or put a random one, and you'll see if it works or not

5)
Let's play

Restrictions
:
- For MHFU and MH3rd : According to
Devlix
it works if you want to play online. If you're hosting the server, forward the port 27312. Then, to play with other people, each one of you has to forward the port 10000 for the gathering hall and the ports starting from 20001, one for each people you plan to play with for the quests. I haven't tested it myself though (I can't).
But those port are just and indication, LunaMoo reports me that it may differ with MHFU
EU
, so just try this by yourself.
- Not all games may work, here are the one that have been tested to work :
* MHFU
* MH3rd HD
* God Eater Burst (Tested by LunaMoo)
!!!!! NEW !!!!!
Here is a dropbox link to the builds for Mac OSX and Windows 64 bits, for both server and emulator. Tell me if they work.
EDIT : 32 bits is broken, i can't debug it since it only compiles on my virtual machine and i can't really program on it, i remove it.
Dropbox :
https://www.dropbox.com/sh/7wfslgkdvdoa455/wXwr9yk-xs
Some screens :
PSP + Windows + Mac OSX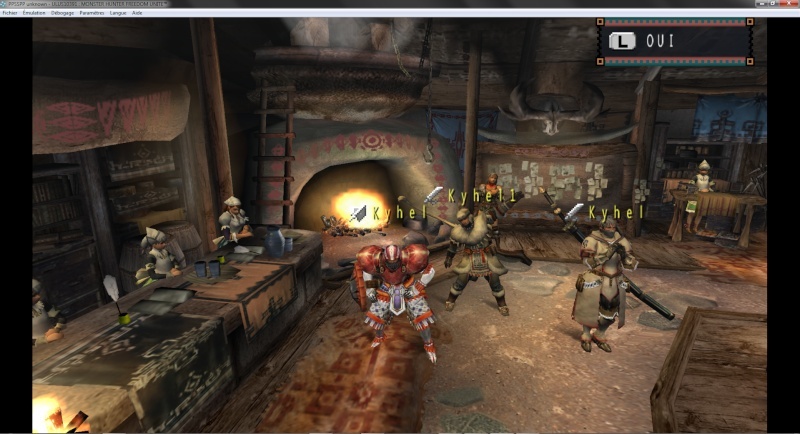 ---
Kyhel,
French Student
Thanks to all PPSSPP team for this amazing emulator !

Experimental PPSSPP Adhoc Support build here : http://forums.ppsspp.org/showthread.php?tid=3595&pid=59241#pid59241
Please read the whole post.