Danganronpa Kibou no Gakuen ro Zetsubou no Koukousei (PSP The Best)
06-23-2013, 10:23 AM
(This post was last modified: 06-23-2013 10:46 AM by solarmystic.)

Post: #13
solarmystic
PPSSPP Tester


Posts: 1,299
Joined: Apr 2013
Reputation: 75
RE: Danganronpa Kibou no Gakuen ro Zetsubou no Koukousei (PSP The Best)
Just a quick update.
The game is nearly playable using the latest git builds right now. (ppsspp-v0.7.6-1564-g30efa52)
Perfect music, perfect audio/voices and all the video cutscenes play flawlessly.
The only problem is the sometimes screwed up fonts (as shown in screenshot attachment 2), and yes i'm using the PSP's original fonts so it shouldn't be a factor:-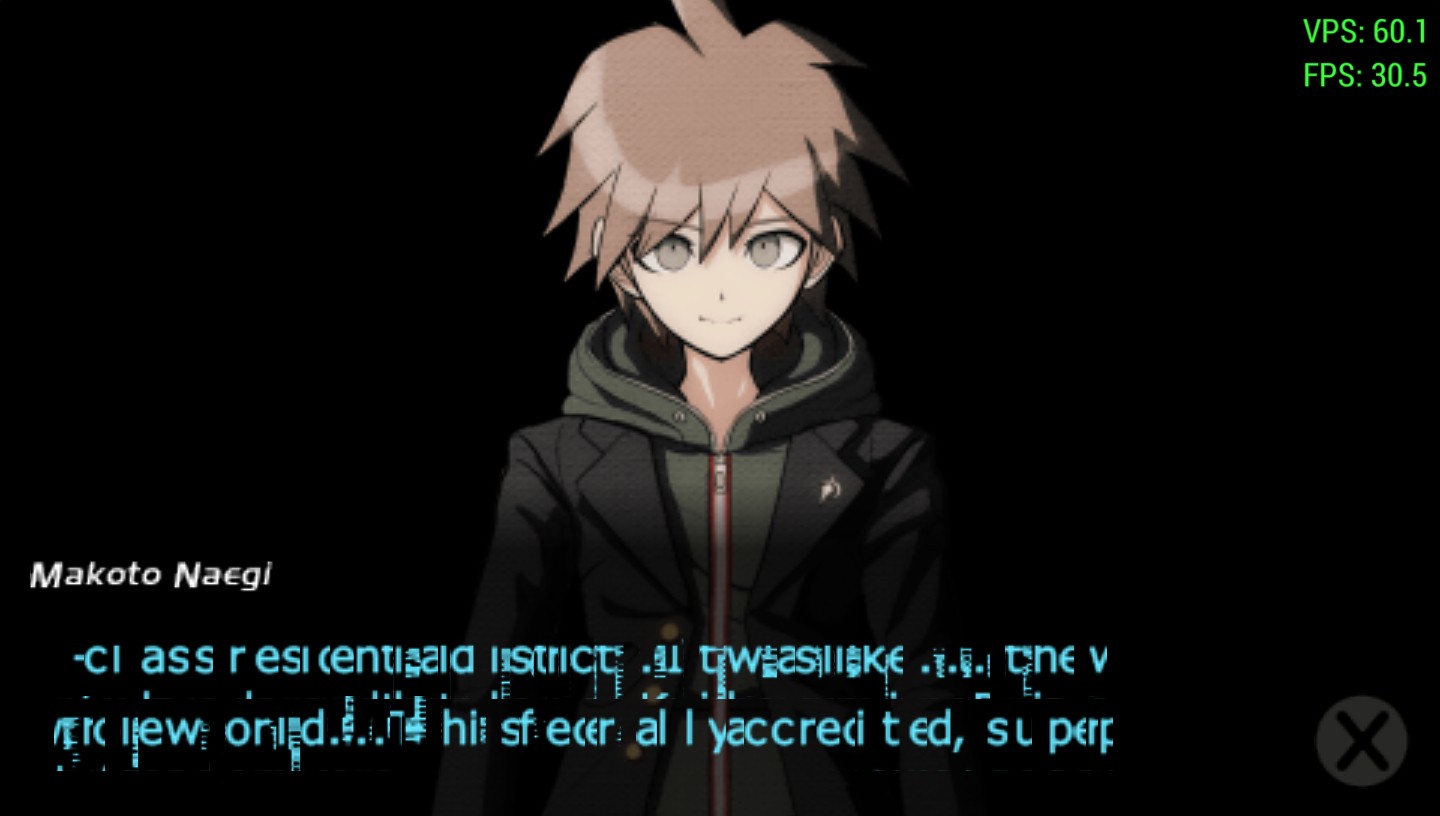 Screenshots taken from the 100% fantranslated version of the game, patch available here:-
http://danganronpa.wordpress.com/2013/06...tion-v1-0/
If the fonts didn't screw up occasionally, I'd deem this game completely playable but it's not the case, so it will have to stay ingame for a while.
Log console doesn't show anything out of the ordinary about the fonts/textures itself while the font screwups happen though:-
Sometimes, if you wait for a short while, the fonts will clear up, and be back to normal. This happens in 90% of the cases.
EDIT:- Another issue (a much bigger and longstanding one apparently), is that the bullseye function used for investigating observable objects around the screen still does not function properly. Pressing X at those objects does not trigger the sequence as you would expect. Its like the bullseye is not properly aligned or something. All the other functions mapped to other buttons work as expected.
Repro:-
0. Start a New Game and play it, until the first part when you're given control of the camera
1. Move the yellow circular bullseye cursor to an observable object. (Which can be discerned by pressing the Triangle button after looking around using the D Pad or the L/R buttons)
2. Press X
3. Nothing happens (Something is supposed to happen at that point)
---
PPSSPP Modern Testbed:-
Intel Core i5 4690K @ 4.0 GHz
NVIDIA Geforce GTX 760 2GB GDDR5 VRAM @ 1138/6500 Mhz
16 GB DDR3 RAM @ 1600 MHz
Windows 7 x64 SP1

PPSSPP Ancient Testing Rig:-
Intel Core 2 Duo T9550 @ 2.8GHz
ATI Mobility Radeon 4670 1GB GDDR3 VRAM @ 843/882 MHz
8 GB DDR3 RAM @ 1066 MHz
Windows 7 x64 SP1