PhoenixStudio - the story so far
06-24-2012, 07:56 PM
(This post was last modified: 12-08-2012 09:23 AM by Henrik.)

Post: #1
Henrik
Administrator


Posts: 2,033
Joined: Jun 2012
Reputation: 154
PhoenixStudio - the story so far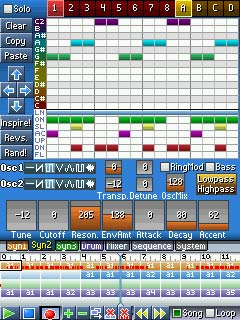 Here's the
home page
, but here's a bit more about the background:
Back in high school, I was playing around a lot with Propellerheads Rebirth. On my 18th birthday or something like that, I got a Casio Cassiopeia PocketPC as a gift. It had a 133MHz MIPS processor and I figured it would be possible to do some audio synthesis on it. So off I went googling around for lowpass filter code, and winged the rest from the top of my head, translated the math code to fixed point when I discovered that the MIPS didn't have an FPU. I also discovered that the MFC / Win32 UI frameworks were nowhere near good enough so I coded my own, and eventually ended up with a passable Rebirth clone with a butt-ugly but very functional UI. Yes!
Looked around for ways to get it distributed and uploaded it to PocketGear, priced at $29.99, which today is a completely insane price for a mobile application but felt very reasonable at the time as ReBirth cost five times that...
Ended up selling about five hundred copies of the thing over the next few years, which was very nice beer money for the university student that I was back then

PhoenixStudio is returning soon (for much cheaper!) for the Galaxy Note and other stylus based devices, plus of course large touch tablets. It will be possible to run it on small touchscreen devices too, but usable? Not really